Coffee, Club, Bar "Meeting" Table - Oak table top - 50x50
favorite_border
compare_arrows
| | |
| --- | --- |
| Brand:: | TW Meble |
| Category: | Tables |
| Product Code: | Stolik klubowy Meeting |
| Dimensions (L x W x H): | 50 cm x 50 cm x 75 cm |
| Weight: | 10 kg |
| Availability: | Delivery 7-10 days |
Club table​ "Meeting"
check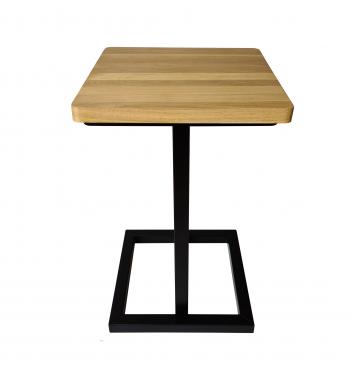 The "Meeting" club table is characterized by a simple minimalistic look and universal colors. Thanks to this, it will certainly fit into the decor of many classic and modern rooms.
The solid black base consists of two elements connected by precise and aesthetic welds, which gives them an elegant minimalist style. In addition, the base profiles 4 x 4 cm thick are made of steel, which after precise painting becomes resistant to most of the factors resulting from the daily use of the table.
The table top is made of solid beech or oak wood, 3 cm thick, thanks to which it is characterized by high durability. It is also painted with a transparent varnish stain that protects the wood and provides the surface with a clean and fresh look.
This type of simple design and finish ensures durability, stability and aesthetic appearance of the table.
Table - Construction
check
a solid black base measuring 40 x 40 cm, made of 4 x 4 cm steel profiles guarantees the stability of the "Meeting" club table in everyday use,
two posts 75 cm high made of 4 x 4 cm steel profiles ensure high stability of the table and plenty of leg space for your guests,
3 cm thick worktop covered with varnish is made of solid beech or oak wood which ensures stability and uniform color in the case of upholstery,
rounded edges reduce the risk of chafing and clothing hooking and also provide an aesthetic finish,
on special order, the table can be made in any size.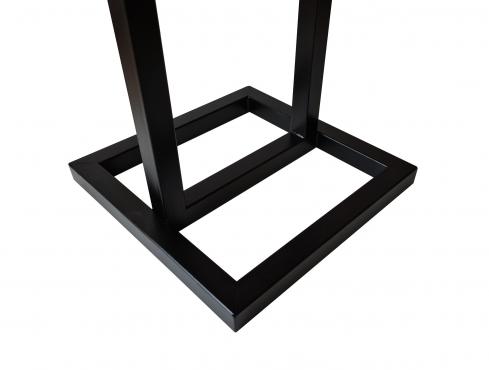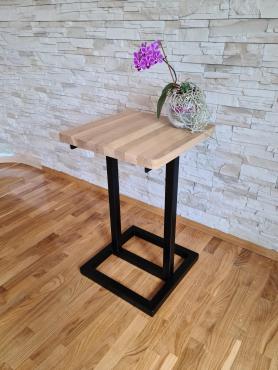 Modern Style
check
The "Meeting" table is very simple and stylish, making it perfect for most arrangements.
The top with rounded edges is made of solid oak wood which gives the whole form elegance and with a steel base creates the perfect duo!
The presented club table referring in form to the industrial style is a great solution for users who value minimalism and solidity of workmanship.
Execution
Construction color
Black
Countertop thickness
3 cm
Coverage
Varnish, Paint
Material
Oak, Steel
Wood color
Oak
Dimensions / weight
Height
75 cm
Length
50 cm
Width
50 cm
Weight
10 kg
Product Condition
Condition
New
Assembly
The product is assembled, ready to use.
Lead time
In stock:
When the product is in stock, the delivery time is 2 to 3 business days.

Out of stock / on order:
If the product is not in stock, the delivery time is from 7 to 9 business days.
Execution
Blat:
Due to the use of solid wood of natural origin for the production, the table may differ from the model presented in the photos. The presence of a different pattern of wood grain, shades or knots is a characteristic of the material used and may affect the final result.